Plastic waste: why the cross-border movement of plastics is a problem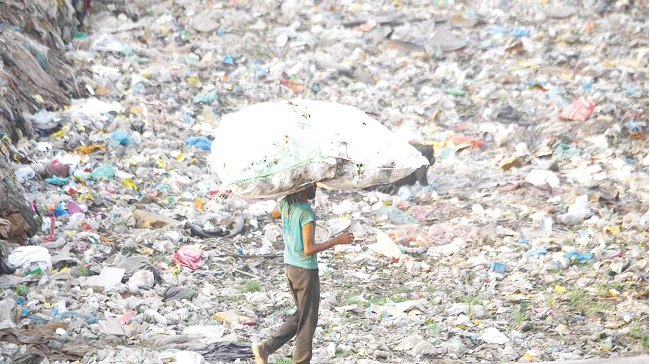 In the 1970s and 1980s, there were several instances of hazardous waste and chemical dumping in different developing countries by the developed world. The one that caused a huge stir was the 1988 Koko incident in Italy's toxic waste dumping in Nigeria's Niger Delta of over 30,000 drums of toxic waste.
This incident among similar ones globally prompted the world to take action for a convention to stem the tide, hence the Basel Convention on the Control of Transboundary Movements of Hazardous Wastes and their Disposal, generally known as the Basel Convention.
The main objective of the Basel Convention is to protect human health and the environment from the negative effects of hazardous wastes and other wastes.
This fundamental objective is achieved by limiting the cross-border movement of hazardous waste between countries and, more specifically, by stopping the transfer of hazardous waste from more developed countries to less developed countries (LDCs).
The convention was adopted on March 22, 1989 and entered into force on May 5, 1992 in Basel, Switzerland, hence its name.
The convention also prescribes a rigorous control system and a prior informed consent (PIC) procedure for transboundary movements of hazardous waste. This means that hazardous waste can still be moved after going through the PIC procedure.
Plastic waste as hazardous waste
Unbeknownst to many, some plastics are considered hazardous waste.
"More than 400 different chemicals are currently used as base polymer additives in the manufacture of plastics. Most of them are toxic to humans," said Prof. Percy Onianwa, Executive Director of the Basel Convention Coordinating Center for the African Region (BCCC-Africa).
He said so during a recent inception workshop held in Lagos for a project titled: "Promoting environmentally sound management and control of cross-border plastic waste trade in Nigeria, through inventory and stakeholder mapping". The project is implemented in Nigeria.
The project aims to promote environmentally sound management and control of cross-border plastic waste trade in Nigeria through stakeholder inventory and mapping.
With an African population of 1.216 billion and 54 countries, approximately 172 metric tons of polymers/plastics worth US$285 billion were imported between 1990 and 2017. This is according to Dr. Joshua Babayemi, Research Associate, BCCC -Africa in an article he presented at the launch workshop. The document was titled "Cross-Border Movement of Plastic and Plastic Primary Commodities in Africa 1990-2017".
On January 1, 2021, the Plastic Waste Amendment of the Basel Convention entered into force. The amendment subjects a large number of groups/types of plastics to strict control with regard to cross-border movement.
A global agreement to end plastic pollution
During its fifth session in Nairobi on March 2, 2022, the United Nations Environment Assembly (UNEA) decided to start negotiations on a global agreement to end plastic pollution.
Heads of state, environment ministers and other representatives of UN member states endorsed a historic resolution at the UNEA in Nairobi to end plastic pollution and forge a legally binding international agreement to 2024. The resolution addresses the full life cycle of plastic, including its production, design and disposal.
The resolution, based on three initial draft resolutions from various countries, establishes an Intergovernmental Negotiating Committee (INC), which will begin its work in 2022, with the ambition of completing a draft legally binding global agreement by the end of 2024.
"Today marks a triumph for planet Earth over single-use plastics. This is the most significant multilateral environmental agreement since the Paris Agreement," said Inger Andersen, Executive Director of UNEP.
Plastic production has grown from 2 million tons in 1950 to 348 million tons in 2017, becoming a global industry valued at $522.6 billion, and its capacity is expected to double by 2040, according to the Pew Research report. Center.
How bad is plastic waste?
Plastic is not only considered hazardous waste. Plastics become unsightly waste that is often disposed of indiscriminately. Unfortunately, plastic waste takes a heavy toll on the environment.
No less than 80% of marine litter is made up of plastic waste. Every minute, the equivalent of a plastic garbage truck is dumped into the oceans, according to the United Nations Environment Program (UNEP).
A plastic bottle takes 450 years to decompose, according to an estimate by the US National Oceanic and Atmospheric Administration (NOAA).
A plastic cup and a disposable baby diaper also take 450 years to decompose. A nylon bag takes 20 years. Compare that to six weeks for a newspaper or two to five weeks for a banana peel.
"Once in the water, the plastic never fully biodegrades, but breaks down into smaller and smaller pieces, eventually being dubbed a 'microplastic' – something less than 5mm long that can still cause harm to marine life," NOAA added.